Welcome to Frame on Wheels. We are an art gallery and custom framing shop that offers an extensive selection of framing possibilities. We opened our doors in 1995 an having serving our community since then. Our talented staff provides superior craftsmanship, attention to detail and will guide you towards creatively framing your artwork and memorabilia.

We offer complete custom picture framing specializing in fine art, posters, lithographs, giclees, mirrors, expert dry mounting, spray mounting, canvas stretching, conservation products, mat board cutting, shadowboxes, diploma framing, needle points these are just a few of the services we offer
.
We also have a large selection of images by local artists. We also specialize in Corporate and residential accounts.

The best way to conserve and enjoy two dimensional artwork and certain small art objects is to frame them. Framing is a complicated art. Aesthetic choices are governed by personal taste, stylistic convention, and of course the colors and textures of the artwork. Other choices are governed by conservational considerations.

Thank you for visiting our website
Rosario(Lula) Verdecia
President / Owner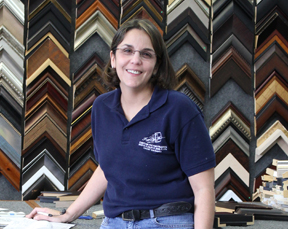 Site maintenance & design by Dania Sierra © 2013. All images on this site are the copyright property of Frame on Wheels / Rosario Torres - Verdecia.
You may not reproduce these images in any way or for without permission. All images are registered under the copyright laws of the
United States of America. Any reproductions are in violation under the copyright laws and will be prosecutable..



10723 West Flagler Street Miami, Florida 33174 Ph: 305 551-9464 Store Hours: M -F 9:00am - 7:00pm Sat. 9:00am - 4:00pm